Berkeley Chamber Rural Initiative Receives Funding To Continue Berkeley Career Express Program
Sources: Berkeley County Chamber of Commerce press release and Charleston Regional Business Journal article.
The Berkeley County Delegation secured a $25,000.00 grant for certified teachers for the Berkeley Chamber's Rural Initiative. On Thursday, November 16th, Berkeley Chamber, Berkeley School District, and Google SC joined the Berkeley County Delegation to announce a grant that will fund certified teachers for Rural Initiative. This grant will assist in providing Digital Literacy and Career Ready Workshops, ACT Soft Skills Courses and Adult Basic Education/General Education Development (GED) classes, collectively known as Berkeley Career Express.
The Berkeley Career Express program was jump-started through a September 2016 Google grant with the Friends of the Berkeley County Library, in association with Berkeley County Adult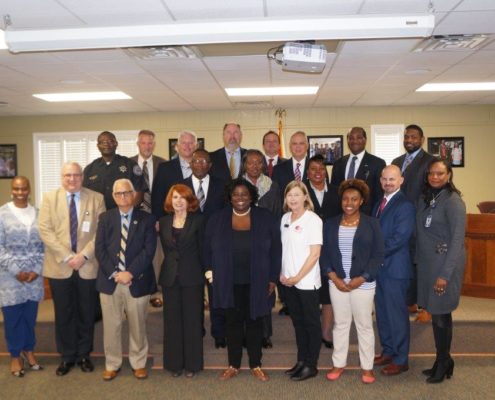 Education and the Berkeley Chamber of Commerce. The overall unemployment rate for Berkeley County is 3.5%, yet it is estimated that in some of our rural areas the rate is as high as 15%. The lack of transportation to – and the affordability of – existing training programs, as well as a lack of access to the Internet, are very real barriers to success for the 33% of Berkeley County residents, mostly rural, who are either unemployed or under-employed.
"Quotes"
Kevin Housand, President of Berkeley Chamber – "The Berkeley Chamber thanks, both our Legislative Delegation and Google for their vision in helping our rural residents gain access to the opportunities currently present, and those to come, in our County and in our region."
Dr. Kevin O'Gorman, Berkeley County School District's Chief Academic Officer, stated, "The purpose of the Rural School Initiative is to bring community organizations together in a joint effort to help remove obstacles for students living in rural areas. This work is exciting to see, and it exemplifies what we need in the future to ensure the success for all students in Berkeley County."
The Director of Berkeley County Adult Education, Dr. Lillie Caldwell added, "Berkeley Career Express is designed to help adults in Berkeley County rural communities prepare to enter, re-enter or pursue employment that leads to a living wage."
Lilyn Hester, Head of Southeast Public Affairs, Google – "Google's mission is to organize the world's information and make it universally accessible and useful. In SC, Google has worked to eliminate as many barriers to success as possible for our neighbors in Berkeley County, and throughout the Lowcountry. In partnering with the Berkeley Chamber and local delegation, we're providing residents with the tools and expertise necessary to stay connected and thrive in the digital age."
https://berkeleylibrarysc.org/wp-content/uploads/2017/11/DSC01491.jpg
680
1024
berklib
/wp-content/uploads/2013/04/logo-large2b-1030x282.png
berklib
2017-11-21 11:39:50
2017-11-21 11:39:50
Berkeley Chamber Rural Initiative Receives Funding To Continue Berkeley Career Express Program