What's Cooking at St. Stephen Library
So it all started with cake decorating….
Written by Tina Chenoweth, St. Stephen Library Branch Manager
Last year, Tina, the newly minted manager of the St. Stephen Library, had literally no idea what kinds of programs she should offer at her branch, so she tried a variety of different programs to see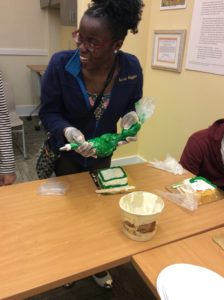 what would stick. She simply observed the turnouts and silently gathered feedback. But when the cake decorating program took place, the normally sleepy little library was overrun with customers of all ages, clamoring for a chance to decorate cakes with Ms. Owens, our guest baker from the IGA grocery store. And thus began St. Stephen Library's obsession with cooking programs.
Since that first program, the branch has hosted several different kinds of cooking programs, including:
• Candy sushi
• Egg rolls
• Tofu
• Homemade pasta
• No bake holiday treats
And they have more cooking programs that will be featured in their upcoming Cooking Academy series. Cookie decorating, sushi (nothing raw!), and a Downton Abbey style "high tea" are on the menu this winter.
Many attendees travel distances to attend the cooking programs at St. Stephen, and many library staff and family members are also fans.
The staff at the St. Stephen branch offer some theories behind the popularity of cooking programs. Donna T. reported that a family member signs up for every single cooking program offered and looks forward to attending. "For the homemade pasta program, he didn't feel well on that day, but he came anyway – and was glad he did because he had a blast!" Vickie S. said that she learned how to eat something – namely tofu – that she originally thought was disgusting! "Everyone was saying negative things when I tried to talk them into coming to our tofu program – but the dishes prepared were totally healthy and delicious!"
Food and cooking are social events; they bring people together, in more ways than one. Learning about other cultures through food and cooking is a wonderful bonus. Furthermore, in rural areas, poor diet, obesity, and diet-related illnesses, such as diabetes, are extremely prevalent, and the library seeks to inform as well as entertain attendees at cooking programs. With all of the artificial and potentially harmful ingredients in food these days, we could all stand to be more cooking literate and aware of what goes into our dishes. So come and learn how to prepare healthy and delicious food at your library, through cooking programs as well as a great selection of cookbooks.
Check the Family section online or in our Open Up! Program Catalog for Cooking Academy program dates and times:
Cookie Decorating
Thursday, Dec. 14th
4:30 pm
Homestyle Sushi
(nothing raw!)
Thursday, Jan. 18th
4:30 pm
High Tea
(Downton style)
Tuesday, Feb. 20th, 4:30 pm
https://berkeleylibrarysc.org/wp-content/uploads/2017/11/cake-decorating-e1511290807365.jpg
2592
1936
berklib
/wp-content/uploads/2013/04/logo-large2b-1030x282.png
berklib
2017-11-21 14:07:58
2017-11-21 14:24:18
What's Cooking at St. Stephen Library