Friends of the BCLS Host Annual Meeting Oct 8th to Elect New Officers and Celebrate Local Author Sherry Schumann
The Friends of BCLS is an incorporated non-profit organization of volunteers that promote, enhance, and support the Berkeley County Library System to bring all the exciting, involving, inspiring programs our county's residents both need…and deserve.
Money is raised through membership fees, corporate incentives, Friends' book sale shelves at each library and special fundraising events. Funds from the Friends help support programs and initiatives for children, teens, and adults including the Summer Reading Program.
It's that time of year again to celebrate the success of one year closing and plan for another year to come at the Friend's Annual Meeting. The 2015 Annual Meeting will be Thursday, October 8th at 7:00 pm at the Moncks Corner Library. (1003 Highway 52). Lite refreshments will be served and local author Sherry Schumann will featured.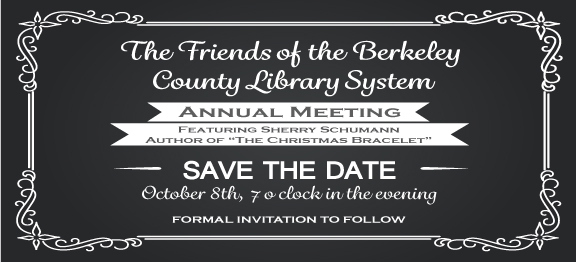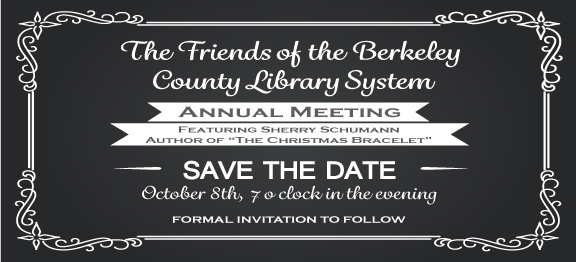 Having traveled along a journey of healing and redemption, Sherry's greatest joy is the LORD. She leads women's Bible studies, speaks at Christian retreats, and co-chairs a community James 1:27 Team (support group for those of us who care for elderly parents). Her wildlife photography from the South Carolina Lowcountry is featured at women's prayer and healing services. She and her husband are blessed with three sons, two daughter-in-laws, and an adorable granddaughter.
Sherry's first novel, The Christmas Bracelet, was published by WestBow Press. She also published an Easter drama, They Knew No Easter, by Lillenas. Her article "Meeting Jesus at the Toilet Bowl' (strange title but definitely worth the read) will soon appear in Christmas Moments.
Source: Goodreads.com
2015 Annual Meeting Candidates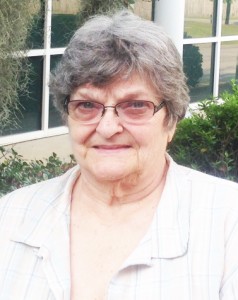 Sue Kelley (President Nominee)
Sue Kelley grew up in the Smoky Mountains of Western NC and East TN with 2 brothers and 2 sisters. She attended East Tennessee State College with an English major. She has always been an avid reader and encourages others to read. She worked several years in retail management; was a rural carrier, as well as a rural delivery and driver trainer for the United States Postal Service.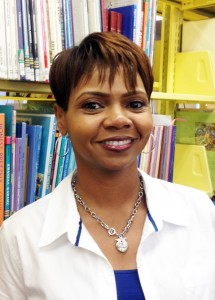 Charon Gadsden (Vice President Nominee)
After relocating to SC many years ago, Charon Gadsden considers the St Stephen area as her home. She has been able to raise three wonderful children and flourish her entrepreneurial goals in Berkeley County for over fifteen years. Her passion for reading, literacy, and understanding the many advantages of having a library makes her eager to serve the BCLS and her community.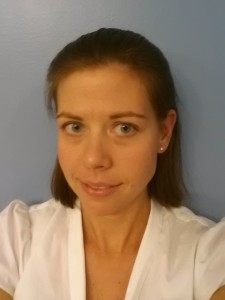 Nancy Shaw (Secretary Nominee)
Nancy Shaw is currently a work-at-home mom living in Goose Creek. Previously, Nancy was a public high school English teacher, and before that, she served in the Peace Corps Volunteer teaching English in China. Nancy says, "The Berkeley County Library System provides so many wonderful resources for our community, so it would be great to try to give something back as the secretary of the Friends."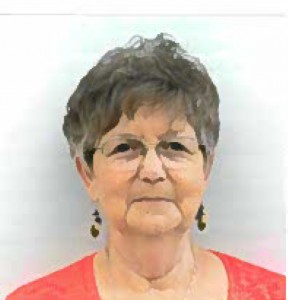 Pat Whetzel (Treasurer)
Pat Whetzel was born in Summerville, SC and has been married to Frank Whetzel for almost 50 years. She is the proud mother of two and grandmother of three. Pat retired as an Office Manager of approximately 30 yrs. She is an active member of Moncks Corner United Methodist Church, Chairman of the History and Archives, a volunteer for Mepkin Abby Creche Festival, and a volunteer for Rosco Reader as well as the Treasurer for the Friends of Berkeley County Library System.
The Treasurer is a paid position and not up for election at this time.
There are also a few Friends of the Library Board Seats available.
To RSVP, please call Gwen Lewis at 843-899-4502.
Not a member yet? Join today online at http://berkeleylibrarysc.org/friends-of-the-library/
https://berkeleylibrarysc.org/wp-content/uploads/2015/09/BCLS_Friends.jpg
1117
1956
berklib
/wp-content/uploads/2013/04/logo-large2b-1030x282.png
berklib
2015-09-25 11:12:25
2015-09-25 11:24:44
Friends of the BCLS Host Annual Meeting Oct 8th to Elect New Officers and Celebrate Local Author Sherry Schumann