BCLS Gets An Enhanced Tumble Book Library: Great Resources for Kids
Struggling to get your little one more engaged with reading? What could be more fun than digital flip books? If you have not already, then you need to try out Tumble Book Library, now with even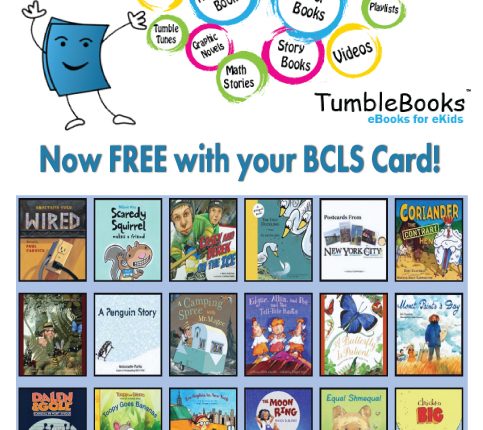 more amazing features!
We are excited about this enhanced version of Tumblebooks and the changes to the access structure that it will bring. The access structure change will be particularly helpful for teachers and families who homeschool. The enhanced version of Tumbebooks is considered the premium version which includes: over 1,100 titles; resources for K-6; lesson plans for teachers; animated talking picture books; chapter books; National Geographic videos; both fiction and non-fiction materials; graphic novels; books in English, French, and Spanish; and many other resources. – Plus it is FREE with your BCLS Library Card. (Click here to get a free 30 day card to test it yourself if you are not a current BCLS library card holder).
Use it for independent reading, group activities, story time, lessons, and more! And, as a digital library of animated talking picture books, it has the added bonus of being accessible – 24/7 – from any device with an internet connection.
The collection partners well with school library and serve to enhance and support your collection of physical books. And from home, TumbleBooks provides your students with a huge
library of books at their fingertips, anytime they want. Best of all, because the collection is digital, there is an unlimited number of copies of each title. Books are never checked-out, never on hold, never damaged, and NEVER have apple juice spilled on them!
At Home: Exchange after-school cartoons with after-school TumbleBooks! Quiet time before bed! You can even use TumbleBooks on road trips! TumbleBooks is a great way to enhance family literacy and at-home reading.
LEARNING NEW THINGS: TumbleBooks diverse collection connects to curriculum topics and supports what children are learning in class. In addition, they have the freedom of choice and can select titles on subjects that interest them. There are MANY regular nonfiction titles about science, geography, mathematics, history, and more. (Premium subscribers have a large selection of Math stories too!) In addition, there are lots of non-fiction-inspired story books, as well as books which teach valuable life lessons. Students can find new interests or stoke the fire of current interests by browsing our site. TumbleBooks' Story Books can be a great and accessible way to introduce new ideas and information.
ESL STUDENTS: With the large list of Spanish, French, and bilingual TumbleBooks, the site can be used in ESL and second-language classes for story time, independent study, and for Comprehensive language learning.
You can also visit them directly using these URLS:
Spanish: www.BibliotecaTumble.com
French: www.BiblioEnfants.com
SPECIAL NEEDS: TumbleBooks' open nature lets children of all levels, interests, and abilities read and interact with titles at any level. The titles are accessible and enjoyable for special needs children and they help facilitate their class participation alongside the rest of the class.
MATH, HISTORY, SOCIAL STUDIES, AND GEOGRAPHY LESSONS: Just as with Social Studies, Reading, and Language Arts classes, TumbleBooks' extensive and varied nonfiction sections can be utilized in classes you might not normally associate with picture books! TumbleBooks' picture books are both entertaining AND educational, and they help teach children new and complex concepts that might be difficult to grasp in regular nonfiction books.
ONE-ON-ONE TUTORING: TumbleBooks is not only great for classroom story time, but it's also an invaluable tool for one-on-one teaching. Our teachers have told us how they'll sit with a child and read a book together… pausing to discuss vocabulary words and concepts along the way. Not only that, but they've also used it for Buddy Reading where a younger student is paired with an older classmate.
ENCOURAGING RELUCTANT READERS: TumbleBooks' format attracts readers of all abilities and interests. Teachers have told us how students with little interest in picking up a physical book will spend hours reading TumbleBooks for FUN as well as for class time!
SPEECH THERAPY: TumbleBooks story books are professionally narrated, and when combined with highlighted text for kids to follow along, they're a great tool for speech therapists to use while helping children. The books let children hear a variety of voices, styles, pronunciations, and emotions through the narration – which serve as a great supplement to the therapist's instruction.
PLAYLISTS: Our collection features over 100 pre-made playlists from which you can choose! Each Playlist includes 2 or more TumbleBooks: some are themed playlists, some are for certain reading levels, and some are just for fun! Are you in the mood for stories about animals? Is it the first day of school? Do your kids need some imagination inspiration? We have you covered!
PUZZLES AND GAMES: TumbleBookLibrary's Puzzles and Games section provides entertaining and educational activities based on your kids' favorite TumbleBooks. There are puzzles, memory games, crosswords, match-the-sentence games, and more!
COMMON CORE PORTAL: TumbleBooks exclusive Common Core Portal helps educators find specific lesson plans and TumbleBooks to help fulfill core level requirements.
Simply click on the Common Core link in the blue navigation bar to access the feature anytime!
The Common Core portal offers tabs for Reading: Literature, Reading: Informational, Texts, and Mathematics. Within each section, we list the levels for kindergarten through grade five.
TUMBLESEARCH: The top right corner of the site has a link to our TumbleSearch feature. TumbleSearch allows you to find JUST the right book for you: by subject, length, and reading levels!
In addition, our Search By Title and Author areas have an auto-fill function that help young readers find the titles they're looking for, even if they might have a hard time spelling the words correctly. The Search By Title and Search By Author sections are great to use if you know exactly what you're looking for. Were you reading a book called "Hello Sun" last week, but can't
remember where to find it? Just enter the title and it'll pop right up!
STORY BOOK OF THE DAY: Visit TumbleBookLibrary every day to see a new highlighted Story Book of the Day! We also highlight Graphic Novels, Non Fiction, Read Alongs, and Videos of the day! When you log in to TumbleBookLibrary, the Story Book of the Day slider is at the forefront of the home page, and it rotates between the other book categories every few seconds.
Inspiration can come from many places, and we hope that our Book of the Day feature may help you find your new favorite read! Help you revisit an old favorite! Most of all, we hope it will help you explore everything the site has to offer.
FAVORITES AND PLAYLISTS: Have you found a book you LOVE and want to come back to it again later? Add it to Favorites by clicking on the "Add to Favorites" button beneath the book cover.
https://berkeleylibrarysc.org/wp-content/uploads/2014/05/Tumblebooks.png
353
386
berklib
/wp-content/uploads/2013/04/logo-large2b-1030x282.png
berklib
2017-07-24 16:45:13
2017-07-31 16:26:38
BCLS Gets An Enhanced Tumble Book Library: Great Resources for Kids