New Color Me Calm at Goose Creek Library
There is a new trend in town and it has found it's way to BCLS @ the Goose Creek Library.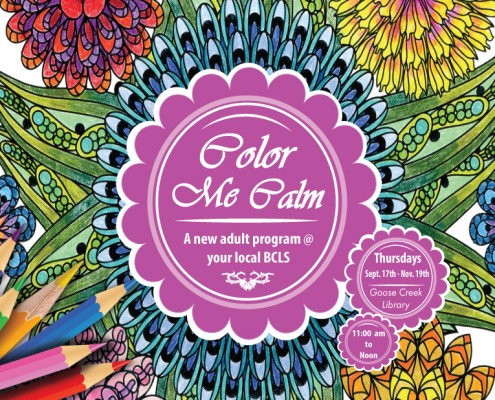 Source: Fox News
Health benefits of coloring books attracting adults to childhood pastime
Coloring is just for kids, right? Not anymore.
Recently, adults across the country have picked up coloring books as a way to relax and unwind.
Jason Abrams, 30, is an account manager at North 6th Agency, a New York City-based public relations firm. High anxiety and the hectic schedule of the deadline-driven job left him needing a way to cope with the stress.
Eight years ago, he got hooked on using coloring books as a relaxing exercise— he even sparked a trend in his office.
"We'll meet in the conference room on Friday afternoons," Abrams said, "and get our coloring session in… to help relieve the stress."
The health benefits go beyond relaxation, and include exercising fine motor skills and training the brain to focus.
Doctors have known about these benefits since the early 1900s. Psychiatrist Carl Jung, the founder of analytical psychology, prescribed coloring to his patients to calm and center their minds. Doctors today continue to follow Jung's lead and still recommend the activity to combat anxiety.
The fact that coloring is structured activates the logic part of the brain, and generates a creative mindset, said New York-based clinical psychologist Dr. Ben Michaelis.
"Because it's a centering activity, the amygdala, which is the part of the brain that is involved with our fear response, actually gets a bit, a little bit of a rest," Michaelis said, "and it ultimately has a really calming effect over time."
Not only does he prescribe coloring, but Michaelis even uses coloring books with his own family.
"We do it on Fridays as a way to kind of take the steam out of the week," he said, "and also when my kids are kind of fighting or the temperature is starting to rise a bit in the house."
The trend has spread nationwide as adult coloring books are popping up on bestseller lists, and major publishers are producing the books in droves, with titles like The Mindfulness Coloring Book, Splendid Cities, The Time Garden, and Color Me Calm.
Once a month, Heidi Johnson, a member of the Ladies Coloring Club in New Hope, Minnesota, finds herself unwinding with the group when they meet for cocktails and coloring. And there's no need to worry about staying in the lines, Johnson said.
"You don't have to be an expert at the DIY project, or a painter or an artist," she said. "You can just pick something you like that speaks to you and color it however you want it."
Abrams compared his experience with coloring to the feeling of doing yoga.
"You go in, right, you're tight, and you're tense. You start going through the motions, and the poses, and stretching out," he said. "Then when you're done, you're like, 'I feel excellent.'"
But above all else, coloring lets stressed-out adults feel like a kid again, and channel a worry-free lifestyle— at least for a little while.
https://berkeleylibrarysc.org/wp-content/uploads/2015/09/Color-me-calm.jpg
618
800
berklib
/wp-content/uploads/2013/04/logo-large2b-1030x282.png
berklib
2015-09-01 17:18:04
2015-09-01 17:18:47
New Color Me Calm at Goose Creek Library