BCLS Partners with Hoopla Digital for Access to Free Movies, Music, eBooks and More
Berkeley County Library System's new partnership with Hoopla Digital offers open access to today's mobile and connected generation of information users.
Moncks Corner, SC – Today's connected society demands 24/7 library service. This is why Berkeley County Library System's (BCLS) recent revision of their strategic plan shifted their focus to removing customer barriers and providing open access to its resources – anytime and anywhere.
BCLS is pleased to announce that over 500,000 movies, television shows, music albums, eBooks, audiobooks and comics are all available for mobile and online access through a new partnership with hoopla digital (hoopladigital.com). Now customers can enjoy the library's collection from anywhere on all their devices.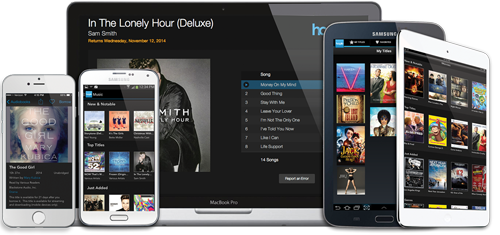 Berkeley County Library System card-holders across Berkeley County can now download the free hoopla digital mobile app on their Android or IOS device or visit hoopladigital.com to begin enjoying thousands of titles – from major Hollywood studios, record companies and publishers – available to borrow 24/7, for instant streaming or temporary downloading to their smartphones, tablets and computers. The best part? Every item on Hoopla is available instantly. There is no waiting list or late fees – dissolving barriers many library customers encounter.
BCLS is the eleventh library system in the state of South Carolina to partner with hoopla digital, improving around-the-clock information access for customers across six branches and the bookmobile. Current library partners in the state include Beaufort County Library, Spartanburg County Public Libraries, Horry County Memorial Library, Greenville County Library, and others.
"With hoopla digital, it is our mission to empower the evolution of public libraries while helping them to meet the needs of the mobile generation," said Jeff Jankowski, the founder and owner of hoopla digital. "We've worked for years to create a best-in-breed service that is fun, fast and reliable.  And we continue to secure content deals to expand our offering of popular and niche movies, TV shows, music, eBooks, audiobooks and comics."
BCLS's partnership with Hoopla shows its relevancy in a constantly changing technological landscape. The library is breaking free from the building and literally putting itself in the hands of its customers. This is the library of the future – open access to information anytime from anywhere.
Click here to learn more. 
About hoopla digital
Hoopla digital is a category-creating service that partners with public libraries across North America to provide online and mobile access to thousands of Movies, TV Shows, Music, eBooks, Audiobooks and Comics. With hoopla digital, customers can borrow, instantly stream and download free dynamic content with a valid library card. All content is accessible via hoopla digital's mobile app and online at www.hoopladigital.com. Hoopla digital is a service of Midwest Tape – a trusted partner to public libraries for over 25 years.
https://berkeleylibrarysc.org/wp-content/uploads/2015/04/hoopla_icon.png
728
728
berklib
/wp-content/uploads/2013/04/logo-large2b-1030x282.png
berklib
2016-10-12 12:03:38
2016-10-12 12:04:09
BCLS Partners with Hoopla Digital for Access to Free Movies, Music, eBooks and More