Berkeley Career Express Program: A Collaboration Program to Enhance Digital Literacy
The Berkeley Career Express program will offer Digital Literacy Workshops, Career Ready Classes, ACT Soft Skills Courses, and Adult Basic Education / General Education Development (GED) classes in various Berkeley County Communities. Bringing Workforce Preparation and Career Pathways directly to the student.
Unemployed or underemployed residents of the St. Stephen, Cross, Alvin, or Long Ridge communities who are dedicated to pursuing further education and career training.
For eight weeks, 20 – 25 adults in each community will participate in free classes and workshops designed to help them prepare for the workforce or pursue further educational opportunities. Students completing the 40 hours of course work can earn a WorkKeys Certificate, Basic Computer Literacy, and or Educational Functioning Level Gain certificates (based on the post test of Adult Basic Education).
Interested in participating? Please contact:
Dr. Lillie Caldwell
Director of Adult Community Education
843-899-8703
Fax 843-899-8764
Once applicant is accepted into the program, they are able to check out a Mobile Internet Kit which includes a Chromebook, Wi-Fi jetpack, and all other accessories needed to study and work at home and in the classroom during their 8 week enrollment. Chromebook and Wi-Fi kits will be available to check out from their local BCLS library branch.
St. Stephen Program – Jan 10th – March 3rd
Cross Community Program – Postponed
Classes will meet at Cross High School from 6:30 pm -8:30 pm;  Tuesdays, Wednesdays, and Thursdays Evenings.
Alvin Community Progam – Date to be announced
Long Ridge program dates and locations will be announced.
About the Mobile Internet Kit
Participants of the Berkeley Career Express Program (BCE) who want to borrow a Mobile Internet Kit must have a BCLS card in good standing and must read and sign an berkeley-career-express-use-agreement. We also encourage them to participate in some one-on-one training so that they know how to use the MiFi and Chromebook. This can be done with library staff at the time of check out. Instructions are included in the kit. The library also hosts monthly workshops for additional technical training.
The Mobile Internet kit will be available to check out at the St. Stephen Library for participants in the St. Stephen program starting in Jan.
Kit Includes:
Chromebook (+ charger), JetPack (+ charger), Mouse, Berkeley Career Express_Mobile Internet Kit_User Guide, and Case.
Checkout period:
30 Day checkout, Ages 18+, 1 30 day renewal is available as part of this program. These kits are only for the Berkeley Career Express program and can not be placed on hold or checked out to a customer who is not enrolled in the BCE.
Fines:
Overdue: $2.00 per day, $10.00 maximum Lost Chromebook: $300.00 Miscellaneous Lost Fees: MiFi Unit (JetPack): $50.00, Mouse: $20.00, Case: $50.00, Cables: $25.00 (each) Lost Kit (7+ days overdue): $420.00
Jetpacks:
Jetpacks can only be used for one device and should only be used domestically (within the United States). Network connection strength depends on user's location. JetPacks can charge through an outlet or through the Chromebook. The battery can last up to 8 hours, depending on the type of use.
Samsung Chromebook 2:
Ending your session, closing the device, or turning off the Chromebook removes any data, saved pages, passwords, and changes to settings. If you do not have a Google account, you may use a flash drive to store and share files. Not all sites will be Chrome compatible. The Chromebook will go into sleep mode after 120 minutes. The average battery life is 8 hours, depending on the type of use.
Other Information:
At the end of your Berkeley Career Express 8 week enrollment period, your kit MUST be returned to the front desk of the St. Stephen Library — Do not return kit to bookdrop!
If the kit is overdue, the Jetpack will not work at all, and the Chromebook will only have access to a specific library webpage for five-minute intervals. If you require further assistance, please contact your local Berkeley County Library here.
Daniel Island: 843-471-2952 Goose Creek: 843-572-1376 Hanahan: 843-553-0047 Moncks Corner: 843-719-4223 Sangaree: 843-695-1208 St. Stephen: 843-567-4862 M.O.R.E. Bookmobile: 843-719-4247
This program is a collaboration with the following organizations and is funded by a grant from SC Google.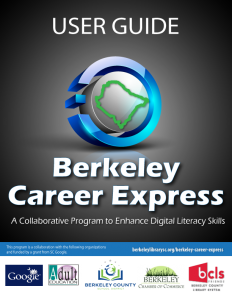 Where the Berkeley Career Express (BCE) Program will provide classes and online resources during the 8 week enrollment periods, we wanted to let participants know the continued learning does not have to stop there. Here are a few resources provided through the BCE Project Partners and other community supporters to further your education and training as well as searching and applying for a job.
Check them out here.